Let´s do homework!
Maria Luisa:
I tried to do my homework. My message is: how we were attended and how you managed our workshop is a model for our teaching:
THE SENSE OF LIFE

We met twelve wonderful people from everywhere in Graz.
We shared our experiences and knowledge.
Acceptance, respect and nobility were given and received.
In an other country I felt at home.
In my country with my foreign students,
I feel citizen of the world.
This is the sense of life for me:
sharing our humanity.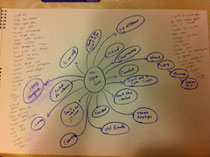 GRAZ
Wear your suit,
I will wear my black dress,
Come with me to the Vienna opera.
Hold my hand.
On the way home
Sleep on the train,
I won't.
Mur will be waiting for us,
Go to sleep with the sound of water.
Exceptionally, I made homework!
In Sandra´s city, day and night,
Banu writes a sweet delight:
Luisa Mary -
Smiling fairy,
Clara - ironed sexy shirt,
Ignacio - valient English nerd!
Bea - seven leagues
She speaks,
Fabienne -
des pratiques femmes!
Adriana -
Muse Banana,
Vjaceslavs sounds like a bear,
Sarah´s voice is always near,
Nek Pantagruel*,
Florina Tinkerbell!
KLK

*"Pantagruel" is the overindulged son of gigantic monarchs in Francoise Rabelais funny world literature book "Gargantua & Pantagruel". Pantagruel eats so much that he leaves whole villages in famine... ;-))))
Propose some homework by yourself!